Buy It
Now!
Item Description
APRES TOUT Barge Cruise- October 13, 2019 - 6 Night/7 Day Cruise around the French Burgundy aboard Apres Tout Barge: Cruising St. Jean de Losne to Pont d'ouche roundtrip from Paris, France!
Description
APRES TOUT - October 13, 2019 - 6 Night/7 Day Cruise around the French Burgundy aboard Apres Tout Charter: Cruising St. Jean de Losne to Pont d'ouche roundtrip from Paris, France!


SARL Apres Tout, Quai
d'Europe, Saint Usage, 21170, France

About the Boat:
The Apres Tout is a converted cargo boat originally built in 1950 and then transformed into a luxury hotel barge in 2004. She is 127 foot long (38.7 metres) by 16.5 foot wide (5.05 metre) and is truly sumptuous.
There are 3 very spacious cabins with Emperor size beds that can divide into twins, each cabin has an extremely efficient air conditioning unit or a separate heating system for cooler months. All cabins have large walk in showers and heated towel rails and are fully stocked with Occitane products.

The salon and dining area are very light and airy with huge picture windows, there is a Satellite television, a Bose DVD player and CD player and ipod docking station. Also there are two wifi systems throughout the boat, so coverage even in the Valley D'ouche is pretty good! There is also for passenger's use a Mac desk top computer and printer in our bureau.

The deck is probably the best used area – a wonderful outside space with 360° views. There is a bubbling hot tub that can easily take 6 people, 6 deck chairs for sun seekers and a large canopied shaded area for dining – where all meals are served weather permitting.

For those wanting to exercise – there are 6 bicycles that are ideal for tow path riding or exploring further afield.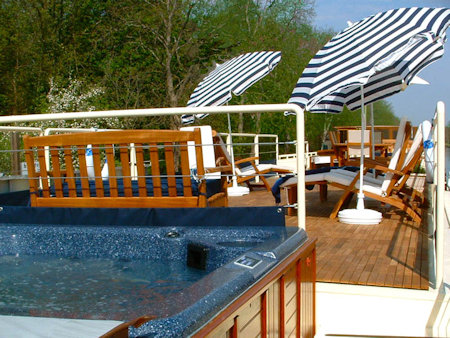 Cruising Burgundy:
The Apres Tout is cruising in one of France's most beautiful areas. Burgundy is a truly special region of outstanding beauty, with its Chateaux, vineyards and water ways. Rory and Caroline have chosen to cruise the Apres Tout on the Canal du Bourgogne – the Burgundy Canal – starting (or finishing) in Pont d'ouche and finishing (or starting) in St Jean de Losne. The boat winds her way down through the valley, towards the magical city of Dijon and then down towards the plains and the River Saone. This valley is stunning and how better to admire the passing countryside than from the comfort of your own seat on a shaded deck chair with a chilled glass of Burgundy in hand!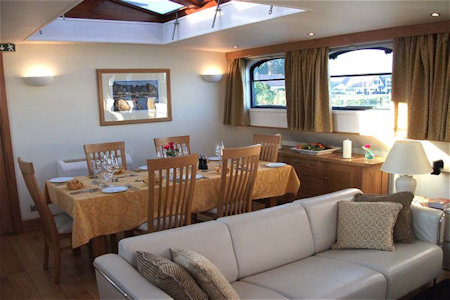 There is so much choice of visits in this area and the itinerary reflects all that is special in this region. Some of the highlights experienced during the week would include a World War II jeep drive through the vines from Clos du Vougeot, driving on the small tracks that wind through the vines gives a wonderful perspective of the famous Cote d'or (coast of gold – when in October all the vines turn golden).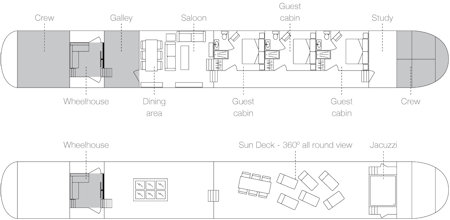 Cruising St. Jean de Losne to Pont d'ouche:

Sunday- Paris to Dijon
Depart Paris in our luxury private transfer service direct to the barge moored in St Jean de Losne, where you board the Apres Tout for your canal cruise through Burgundy on the Canal du Bourgogne. A champagne reception gives you a chance to meet the crew. Once you have settled into your cabin, it will be time to return to the deck for a cocktail cruise on the river Saône. A delicious four course dinner will be served with wonderful wines to match, followed by after dinner drinks – weather permitting all served on the magnificent teak deck.
Monday- Cruise to Longecourt. Visit Tuffle Producer
Leaving the River Saône behind, we now enter onto the Canal de Bourgogne through the first of many locks! Spend the morning enjoying your first cruising day on the flat plain from the river toward Dijon. After lunch, your guide takes you to the area of the 'Côte d'Or' ( In French meaning Gold Coast) planted with vines that produce some of the most wonderful wines of Burgundy – on the 'Route de Grand Cru'. We visit a local truffle producer at his Chateau, near Nuits St George. Here, we learn all about this most valued mushroom and of course, purchase some of these delights to be used on board during the week. We then return to the barge moored at Longecourt for a well deserved refreshing cocktail!
Tuesday- Market visit to Dijon. 2 CV's classic car ride through the vines
This morning we set off early to visit the wonderful open air market in historic Dijon, taste mustard at the famous Maille shop in the centre and learn all about the long and interesting history of this city. We walk along the cobbled streets, learning all about the Dukes of Burgundy and see the remains of their Ducal Palace. We return to the barge for a delicious lunch and continue our cruise towards Dijon. This afternoon we are driving classic 2 CV's cars through the vineyards. We have developed a perfect circuit for our round trip through many wine villages such as Pommard, Saint Romain, & Auxrey Duresse.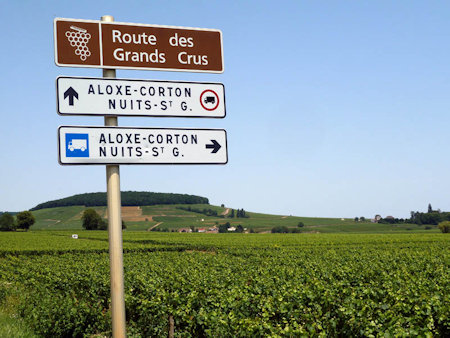 Wednesday- Cruise to Fleurey. Lunch Gevrey Chambertin at a wine makers. Route de Grand Cru
Leaving Dijon behind we continue our canal cruise to the valley of the Ouche. Enjoy a relaxing morning on board; there are many locks for dis-embarking to cycle or to walk. Late morning you transfer over the hillside and down through the vines to the charming village of Gevrey Chambertin. We are greeted by the owner of this prestigious Grand Crus wine makers, and here we have a splendid lunch on their terrace over looking their vines! During lunch Madame Drouhin Laroze (the owner) will present her wines. We then take a scenic drive along the famous 'Route du Grand Crus', Passing through many of the famous wine villages.
Thursday- Cruise to Gissey. Visit Beaune
The morning is spent cruising through the lovely Ouche Valley, this is a truly spectacular part of the canal, small villages pass by, cows wander in the fields, and there is nature all around. There is a total feeling of peace and tranquillity as we slowly cruise this magnificent canal. After another wonderful lunch, you are transferred to the delightful town of Beaune, the capital of the wine region of Burgundy. Enjoy a visit to the famous Hôtel-Dieu, Hospice de Beaune with its interesting history and magnificent tiled roof. After some free time for shopping or strolling in the pedestrian streets we have an appointment for a private wine tasting at the famous cellars of Louis Jadot. Later, we return to the barge for a refreshing cocktail moored in the beautiful village of Gissey.

Friday- Cruise to Pont d'Ouche. Lunch at Abbaye de la Bussiere. Visit Chateauneuf-en-Auxois

Today enjoy the final stretch of this beautiful canal cruise. We pass through several more locks until reaching our destination of the port at Pont D'Ouche. This afternoon we make a special private visit to an English artist of world renown, who has set up his gallery and workshop in a converted barn. His work is world class, and has been recently commissioned to create a piece of art to celebrate the Olympics in London. We are shown through the workshop, and explained how he makes his marvelous pieces of bronze sculptures many of which have been produced for the Queen of England, including the war memorial in London. We then drive up to Châteauneuf-en-Auxois, a medieval hill-top village steeped in History. This is a charming place with stunning views from all angles, of the surrounding countryside. Return to the Apres Tout for a gala dinner with wonderful wines to match and a fond farewell.
Saturday- Paris

After breakfast disembark and transfer to Paris with our private luxury transfer service.
_______________________________________________________________
Accommodations will be provided in one of the three Guestrooms on-board based on single or double occupancy. There are no Triple or Quad Cabins available.
Odd number of guests will be charged a single supplement fee of $3,000.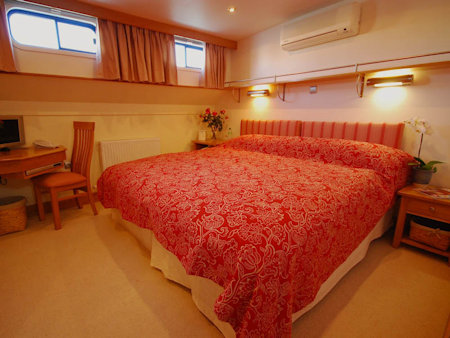 At least one of the guests occupying the cabin must be 21 years of age at the beginning of the cruise.

For more information on Apres Tout Charter Boat visit: www.bargeaprestout.com/

For more information
Click Here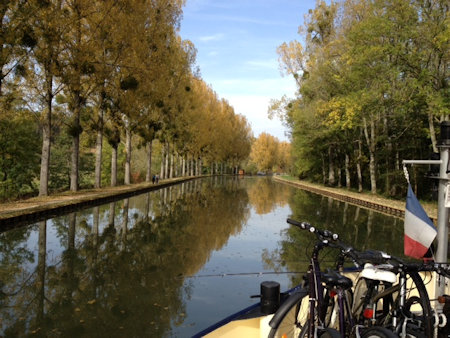 Price is per cabin.
Travel Details
Sail Dates Allowed:
Anytime within the following date(s):
10/13/2019
Length of Cruise:
6 nights.
First possible travel day is 3 day(s) after submission of travel preferences.
Single supplement charge:
$3000
One Time Processing Fee:
$20
Reference: 170705