Buy It
Now!
Item Description
Unfortunately, this low price guaranteed offer has ended. The offer ended: Tuesday, March 3, 2020 11:00 PM
The good news? You can check out hundreds of more deals that you can Bid on or Buy-It-Now.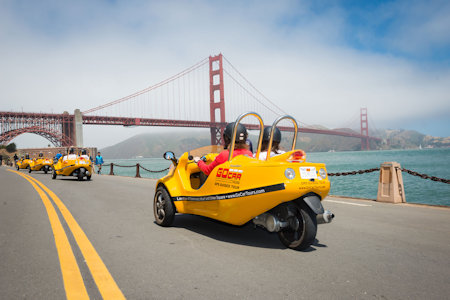 GoCar Tours - San Francisco, CA - Purchase E-Gift Card Valid for 2 Hour Tour for 2 People - Fisherman's Wharf Departure
Description

Purchase an E-Gift Card Valid for 2 Hour GoCar Tour for 2 People!

Departure Address:

Fisherman's Wharf
431 Beach Street
San Francisco, California
(Between Jones Street & Taylor Street)
2HR FISHERMAN'S WHARF DEPARTURE
San Francisco Golden Gate Bridge and Back Loop (2 hour tour for 2 people)

Let GoCar take you off the beaten path through many of San Francisco's iconic parks like the Presidio and Crissy Field on the way to the Golden Gate Bridge and back. Snap some amazing photos along the Pacific Ocean and see the Golden Gate Bridge up close from above and below. You can even park and take a stroll along the span of the bridge if you choose. On the way back explore the boutique shopping districts of Chestnut and Union Street and fill the trunk with the latest fashions or stop for a bite to eat. Finish your tour where tour buses can't by winding your way up Russian Hill to take an exhilarating ride down the Crooked Street (Lombard St). This tour is approximately two hours drive time at a slow pace and has several fun, informative detours and stop options along the way. If you want to extend the tour you have the option of taking the Downtown/Chinatown loop at the end of the tour.

Golden Gate Bridge and Back Tour Highlights:
Golden Gate Bridge
Pacific Ocean
Lombard Street
Fisherman's Wharf
Crissy Field
Fort Point
The Legion of Honor
Fort Mason
The Marina
The Presidio
Palace of Fine Arts
The Crooked Street
Russian Hill

Above is only a suggested route. Your tour's length may vary due to circumstances such as departure time and location, traffic and your itinerary. If you do take additional rental time, this will be billed in 15-minute increments at our retail rates. You may visit all or some the tour's highlights. If you are unsure of which tour to book, just book according to the amount of time you think you'd like to spend. We can customize a tour especially for you, with the sights you want to include, when you come into our shop.
Details:
Hours: Tours are active between 9AM - 2PM and leave at every hour.

Schedule: Available Monday through Sunday
Not valid from March 2-April 7, 2019, May 25- September 8, 2019, December 14 - December 31, 2019

Please book your trip at: https://gocartours-sf.rezdy.com/catalog/308154/bizx
Additional Information:
E-Gift Card is Good For 2 people for 1 All Day GoCar Tour
This ticket has no cash value.
You must possess a major credit card and have a vild driver's license in your physical possession.
When rented a $500 security deposit will be held on your credit car duntil the GoCar is returned.
Drivers' must be 21 years of age or older. Passengers must be 4 years of age or older - and smaller children must safely fit into one of our DOT approved helmets.
CANCELLATION or RESCHEDULES must be made 24 hours before departure time to avoid being charged. Tours cannot be cancelled or rescheduled inside of 24 hours of your scheduled time and a $20 cancellation fee will apply.
Physical requirements: Notification of physical handicap, disability, pregnancy, or individual weight in excess of 250 lbs. is required at time of scheduling.
No refunds
For more information
Click Here
Price is per certificate.
Resale of these items is strictly forbidden either privately or through any other website. The issuer reserves the right to deny acceptance without recourse of any items deemed to have been obtained in a manner contrary to our terms of sale and any person found to engage in this practice will be refused the right to purchase further items of this type.
Immediate Full Payment Required Upon Winning
Other Details
Validity Dates:
Anytime within the following date(s):
1/1/2019 thru 12/31/2020
Free Shipping.
Reference: 166662