Buy It
Now!
Item Description
Unfortunately, this low price guaranteed offer has ended. The offer ended: Wednesday, December 18, 2019 11:00 PM
The good news? You can check out hundreds of more deals that you can Bid on or Buy-It-Now.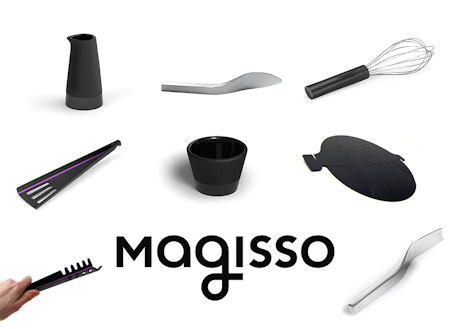 Magisso Magisso Naturally Cooling Ceramic Set with Kitchen Accessories
Description

Magisso Naturally Cooling Ceramic Set
with
Kitchen Accessories
The MUST HAVE for all the things you need to serve cool, fresh, or store fine dining or everyday meals. And with the Naturally Cooling Ceramics you don't need a freezer or a fridge to keep foods deliciously cool. Everything in the ceramic serve ware collection is naturally cooling. It's so simple. Just soak the Naturally Cooling Ceramics in water for a minute or two before use. It will then keep the content cool throughout breakfast, lunch or dinner.
This line of naturally cooling ceramic serve ware also has an outer coating similar to a chalkboard. All you need is some chalk and you can personalize everything. Draw beautiful designs or write names of your guest. Everyone will love your creativity. Each product is meticulously planned to add convenience and style to your home and life.
The Balanced Serving Set is the best addition to your kitchen for a simpler and classier dining experience. Slice, cut, and serve your cheese, pies, cakes, and butters with sleek stylish accessories. For cheese aficionados and pastry gourmands. For parties and everyday life. All the style of a 5-star restaurant in the comfort of your own home.
This special offer includes:
Magisso Naturally Cooling Mini Carafe

Magisso Naturally Cooling Ceramic Serving Cups (set of 2)

Magisso Chopping Pocket (set of 2)
Magisso Slotted Turner
Magisso Spaghetti Scoop
Magisso Magnetic Balloon Whisk
Magisso Balanced Living Serving Set Butter Knife in Stainless Steel
Magisso Balanced Living Serving Set Cheese Knife in Stainless Steel

Product Information for Cooling Ceramics:
Material - Cooling Ceramics
Cleaning and care instructions - Dishwasher safe
Winner of Global Innovation Award
Designer-Simon Stevens
Product Information for Balanced Living:
Material - Stainless Steel
Cleaning and care instructions - Dishwasher safe
Finnish Design
Designer-Maria Kivijarvi
Shipping:
Shipping and handling is Free within the 48 continental United States. For deliveries to Hawaii, Alaska, Puerto Rico and Canada it is $49 additional. We will be unable to accommodate deliveries to any other international destinations.
Terms and Conditions:
1) Merchandise sales are final upon shipment of goods.

Price is per item.
Magisso D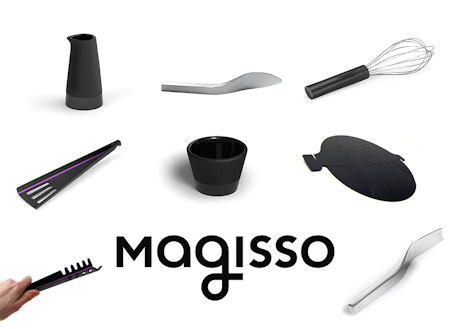 Immediate Full Payment Required Upon Winning
Other Details
Shipping & Handling:
Free shipping within the contiguous United States. If shipping to Alaska, Hawaii, Puerto Rico, or Canada $50 additional.
Reference: 159487